[ad_1]
Defending ICF champion finishes second
After four successive wins and two draws, Southern Railway, Chennai won the 34th All India Railway Chess Championship with consummate ease, scoring ten match points in six rounds. The championship was organized by the East Coast Railway, Waltair in Visakhapatnam. With no grandmaster in their prize pool, the all-IM team comprising of NR Vignesh, K Ratnakaran, S Nitin, BT Murali Krishnan and Sai Agni Jeevitesh produced a splendid performance in the earlier rounds.
Southern Railway has won the All India Railway title after a hiatus of sixteen years | Photo: IA R Anantharam
Southern Railway delivered a rock-solid performance without conceding any team defeats and a single individual defeat
As Southern Railway shut out team SECR by a 4-0 margin, Integral Coach Factory, Chennai secured a 3.5-0.5 win over tough team South Western Railway in the first round. The ICF had four grandmasters – former national rapid and blitz champion Laxman RR, former Asian junior champion Deepan J Chakkravarthy, young Visakh NR and Karthikeyan P. The only international master of Team P Shyaam Nikhil is the second highest rated player in the tournament.
ICF v South Western Railway. Top left, GM Thej Kumar MS plays on the fourth board | Photo: IA R Anantharam
GM Deepan and IM Ratnakaran K helped ICF and Southern Railway respectively win their second round encounters against South Central Railway, Hyderabad and Western Railway, Mumbai respectively in the second round.
The loss of former National Blitz and GM champion Laxman R Rof ICF to IM Vignesh NR in the third round tipped the result as well as the course of the championship in Southern Railway's favor as the other three games between them in the third round were drawn. On the other hand, Eastern Railway swept the match against Northern Railway, Delhi 4-0. In a tough match 3 South Central Railway, Hyderabad beat Metro Railways of Kolkata by the narrowest margin 2.5-1.5 with IMs Mehar Chinna Reddy and Rajesh Vav bringing victory to their team.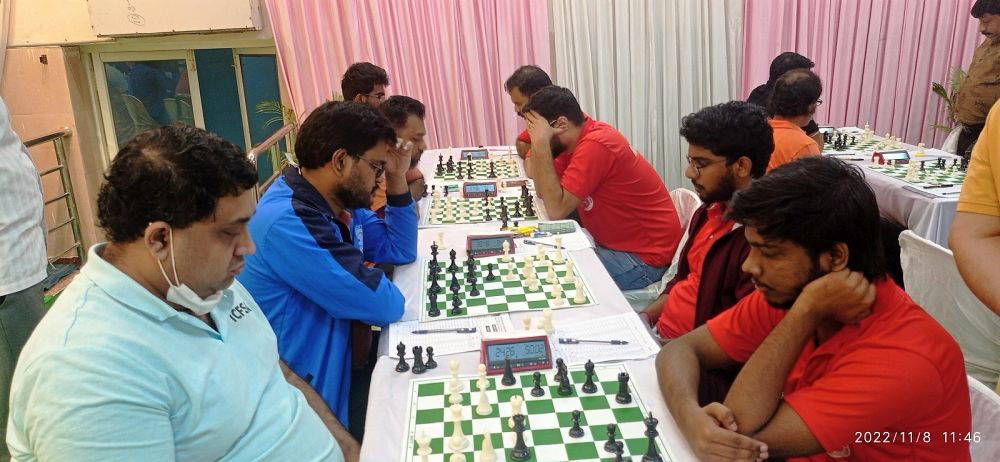 Round 3: Southern Railway's IM Vignesh NR (right) beat ICF's GM Laxman RR to help Southern Railway win the round as well as the tournament | Photo: IA R Anantharam
Round 3: SCR's IM Mehar Chinna Reddy beat Metro's GM Saptarishi Roy Choudhury | Photo: IA R Anantharam
Round 3: Ram Prakash of Northern Railway lost to IM Arghyadip Das of Eastern Railway | Photo: IA R Anantharam
Round 3: ICF's GM Visakh NR drew with Southern Railway's IM Ratnakaran K | Photo: IA R Anantharam
In a crucial fourth-round encounter, Southern Railway overcame strong resistance from Eastern Railway. ICF had to settle for a draw against Western Railway, the turning point being the loss of GM Karthikeyan to Amardeep Bartakke. South Western Railway drew with Metro, Kolkata, GM Thejkumar lost to IM Somak Palit.
Round 4: IM Vignesh NR of SR defeats GM Saptarshi Roy of Eastern Railway
Round 4: ICF's GM Karthikeyan P lost to Western Railway's Amardeep Bartakke | Photo: IA R Anantharam
Round 4: IM Somak Palit of Metro, Kolkata shocked GM Thejkumar of SWR… | Photo: IA R Anantharam
Round 4: …and teammate IM Sayantan Das overpowered Azimuddin | Photo: IA R Anantharam
In view of the title, Southern Railway agreed to split the points with South Central Railway in round five. They had nine match points against second place ICF and South Central Railway who had seven points each, after five rounds.
Round 5: GM Laxman RR (ICF) drew with Arvinder Preet Singh (Northern Railway) | Photo: IA R Anantharam
Round 5: MI Sidhant Mohapatra (Eastern Railway) – MI Himal Gusain (Western Railway): 0.5-0.5 | Photo: IA R Anantharam
In a thrilling and exhilarating finale, Deepan showed off his prowess to score a critical victory over IM Arghyadip Das, allowing ICF to win against Team Eastern Railway. This helped them secure second place. South Central Railway finished third with eight match points.
The Championship was opened by Anup Kumar Satpathy, Division Manager and Chairman of ECoRSA, Visakhapatnam, in the presence of Guest of Honor HL Luwan G, Chief Commercial Manager, Bhubaneswar.
Inaugural moves made by Anup Kumar Satpathy, DRM, ECo Railway and GM Visakh NR | Photo: IA R Anantharam
A total of 67 players including seven GMs and 18 IMs represented 14 teams from various railway divisions of Indian Railways. The four-day, six-round Swiss League Team Championship was hosted by East Coast Railways at the Waltair Stadium in Vizag, Andhra Pradesh from 7-10 October 2022. The tournament had a time control of 90 minutes + 30 seconds of increment from movement n° 1. .
Final ranking
About the Author
Professor Rathinam Anantharam is a Grade A International Arbitrator. Member of FIDE Arbitrators Commission, Chairman of Titles Commission of Indian Chess Federation, Vice Chairman of Tamil State Chess Association Nadu, chief referee for six world championships, numerous Asian, international and national championships.
The article was edited by Shahid Ahmed
---
[ad_2]
Source link